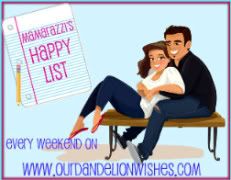 I'm Happy That...
We got to take the kids to the beach on Tuesday and Wednesday. And that the hubs was able to get off from work and go with us! :) We had a WONDERFUL time!! I want to go back!! ;)

I'm Happy That...
Hunter did awesome in his talent show on Thursday evening. I've never been more proud! :) He did karate (I posted a video of it yesterday) to "Eye of the Tiger" and did a great job! He also danced with his girlfriend Kelly... it was adorable!

I'm Happy That...
The world hasn't ended yet... lmao! It's not 6 pm yet either, but I'm willing to bet we'll still be here at 6:01! ;)

I'm Happy That...
I have a job. In today's economy, seriously, I'm happy to have my job! :)

I'm Happy That...
I ordered two new Thirty One bags this week... the Large Utility Tote and the Picnic Thermal Tote... though the hubs might not be quite as happy! :-/ LOL!